Janet L. Purkey, MD, creator of Zazzy Bandz shared with the marketing team a story we couldn't ignore.
Recently, Dr. Purkey was in and out of airports as she traveled with her son. Her passion beyond Zazzy Bandz is being a medical doctor. She loves helping people. While traveling, she met a wonderful lady working at the airport. If you have been in an airport lately, you know the frenetic pace as everyone is trying to get to their destination, but with Janet, we were not surprised she noticed this delightful lady doing her job. As Dr. P walked into the restroom, she saw the cleaning lady busy sweeping and cleaning up. Janet noticed the woman's need to swipe hair away from her face as she bent over mopping. 
Well, Janet just happened to have a Zazzy Bandz in her bag and handed it to this hardworking woman. The woman was a little perplexed at first since Zazzy bandz are different from every other headband. The shape is more square and not round. After some coaxing, she tried it on. Then she smiled and said "I love it, especially I love how it feels! no pressure."  Janet's excitement grew when the lady allowed her to take her picture and permitted her to share it with her team.  Isn't she a doll?
It fit her head perfectly, so, of course, Janet said, "My gift to you.  Keep it and thank you for the work you do."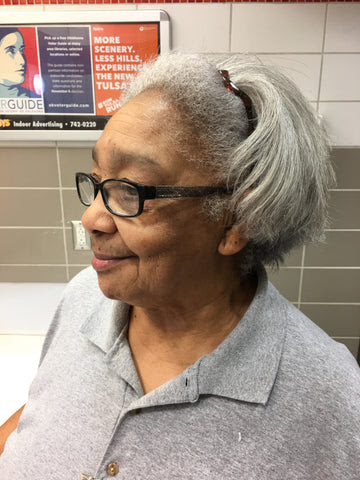 We hope you enjoyed this story. Remember giving should come full circle. So, pay it forward, love others, and a smile will be all it takes to make your day.
Have a Zazzy day!
Zazzy Bandz